Commercial Waste Management Manchester
Business owners in Manchester turn to us for reliable, affordable rubbish removal services. If you use our quote comparison engine, you can save up to 30% on your hazardous waste essentials. 
We have local links to Manchester business waste removal professionals, and we are more than happy to connect you to a suitable supplier. Keep reading to discover how we can streamline your waste needs.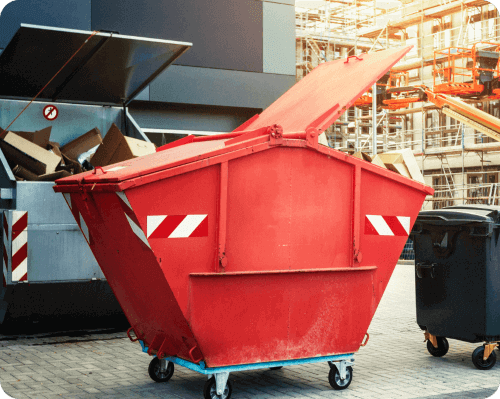 Commercial Waste Removal Manchester by Sector
We work with every kind of industry. All kinds of business owners reach out to us for Manchester business waste disposal services, and we are happy to help! 
Here are some of the sectors that we work with in Manchester. 
Finding reputable providers has never been easier. Just click here to use our quote comparison generator. 
How To Switch Commercial Waste Disposal Providers?
Compare

Enter your waste disposal requirements, and we will recommend the best services in your area.

Select Your Provider

Once you've reviewed your quote, simply decide if the service is right for your business.

Enjoy your savings

With up to 30% savings, you can sit back and relax. We'll handle the switching process for you.
Did you know that you can save up to 30% on Manchester business waste removal services when you use our engine? And it only takes a few minutes! 
Setting up a New Business in Manchester?
Manchester is a hub of activity, which makes it a brilliant place to start a business. Whether you have a shop on Market Street or beyond, you still have to set up all the usual utilities. 
At Love Energy Savings, we help new business owners find affordable water, energy, and rubbish removal services. You can opt for an independent commercial waste removal Manchester provider, or go through us and get all your essential services at once! 
If you are thinking about disposing of commercial waste yourself, think twice. Any waste that is produced on commercial premises needs to be disposed of in a specific way. You can't just drop it off at your local recycling facility. If you dispose of waste in the wrong way, you could even be fined. 
Our Manchester business waste disposal engine helps new business owners avoid all these problems. Even better, we connect them to local professionals who offer affordable services. They can save up to 30% on their rubbish removal needs. 
Hazardous Waste Removal in Manchester
Do you create commercial waste on your premises? Commercial waste (also known as business waste) is classed as any waste that comes from a commercial activity. If this applies to you, you are joining hundreds of businesses that need commercial waste removals in Manchester. 
Hair salons, tattoo parlours, and all sorts of other businesses contact us when they want to dispose of their waste in a safe way. We connect them to professionals who uphold strict health and safety procedures. For safe removals and disposals, use our comparison engine.